The Ultimate Star Wars Experience: Mould King's Executor Super Star Destroyer
The Mould King Executor Super Star Destroyer takes Star Wars fans on an unforgettable journey! This iconic vessel, first seen in the Empire Strikes Back, has been recreated as an incredibly detailed model kit. Perfect for both novice and experienced builders alike, this kit offers an authentic experience that allows you to explore the intricacies of one of the most memorable spaceships from the beloved film franchise.
We'll dive deep into what makes this Mould King set so special – from its impressive array of pieces to its detailed instructions and easy-to-follow assembly process. We'll also take a look at what sets this model kit apart from other versions available on the market and share with you our honest assessment of their accuracy and value for money. So join us as we embark on this epic voyage into a galaxy far, far away!
The Build Experience
If you're looking for a challenging and rewarding building experience, look no further than the Mould King's Executor Super Star Destroyer building set. This set includes 15 bags of pieces that take between three to four hours to assemble on average, each including intricate details like the horizontal clasps that can be quite difficult to build. Despite the challenge, it's an incredibly satisfying endeavour — once you finish, you can proudly display your accurate and detailed Super Star Destroyer model!
Pieces Quality and Ship's Detailing
The piece quality is excellent, and the bricks fit together well, with only minor differences from official LEGO pieces. A small dot on some pieces results from the ejection molding process, which does not affect the bricks' ability to be put together but serves as a useful halfway marker on longer pieces. the piece quality is impressive.
I really enjoy the detailed work and overall symmetry of the build. I also appreciate the ability to adjust the little pieces and that some parts move while others don't, and the majority of the build is symmetrical. However, there are some things that I do not like about it, such as the lack of symmetry in the cityscape, I mean some parts are not the same on both sides. For the open nose of the ship, I had to use a rubber band to hold it together.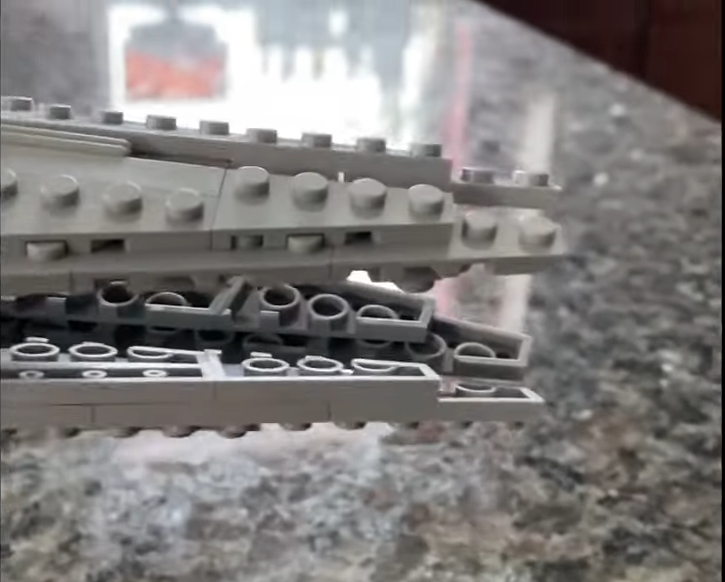 The overall build process of the Mould King's Executor Super Star Destroyer was an enjoyable one, and I can tell you it is a worthy addition to any LEGO fan's collection! The pieces are precisely cut and, though they may be slightly different in size from official LEGO parts, fit perfectly together.
Finished Model Size
The Mould King Executor Super Star Destroyer is a truly impressive model! Once it's completed, it stands at an enormous 52.8 inches long – that's over two feet tall! Comparatively, Lego's version of the Executor Super Star Destroyer model is only 50 inches long – so you can be sure that the Mould King set will make a much more grandiose statement in your collection.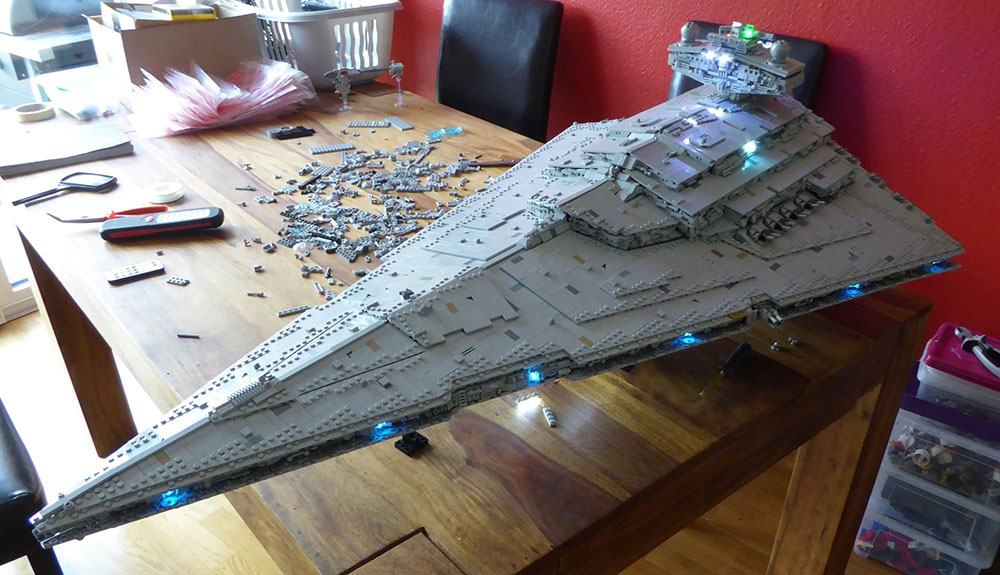 Star War Fan Must Have
The Executor Super Star Destroyer is the first ship in the super star destroyer class.
In the Star Wars universe, the Imperial Star Destroyer is a powerful warship that played a crucial role in the Empire's rise to power. Darth Vader, the Emperor's right-hand man, had to fight his way up the Imperial hierarchy to become the second in command. Once he took command of the Executor, the flagship of the Imperial fleet, he was firmly cemented as the Emperor's number two person. The ship was built and deployed during the pre-rebellion era but finished shortly after the Battle of Yavin, which is considered year zero in the Star Wars universe. The ship was destroyed at the Battle of Endor, about four years after the Battle of Yavin. This ship lasted only four years before its destruction above Endor when a Green Leader flew his A-wing into the command structure, taking it down.
The Mould King's Executor Super Star Destroyer is an accurate and impressive replica of the iconic battleship. It has a large number of movable parts, including turrets, elevators, and open-sided hatches that can be opened and closed. The model also features two small escape pods at the bottom which are removable. The detailing is accurate and the pieces are of good quality. It is an impressive model that any Star Wars fan must have in their collection!
Great Value for Money
When it comes to the Mould King 13134 Executor Super Star Destroyer model, you're getting incredible value for money. Right now, you can get it on sale at Mould King's official store for only $259 – that's a massive saving compared to Lego's version which currently retails for an eye-watering $1860 on Amazon!
This makes the Mould King set an absolute bargain and a great way to add a visually impressive item to your collection without breaking the bank. If you're looking for an impressive Star Wars gift or something personal to build, this is definitely worth considering. To get started, simply head to the Mould King official website to ensure you're getting an authentic product. It's also a good idea to read reviews from other buyers to get an idea of the building experience and any potential issues that may arise.
In conclusion, I enjoyed building the Executor Super Star Destroyer by Mold King, and I'd like to recommend it to anyone interested in Star Wars or building complex Lego sets. The build experience was challenging, but the detailing and design of the ship made it worth it. And it is essential to have enough space to display this ship once it is complete.