Top 5 LEGO Mazda RX7 Sports Car Models to Build
Are you still admiring Keisuke Takahashi's Mazda RX-7 racing down Akina's mountain pass despite having watched Initial D a dozen times? Have you been collecting LEGO car models, but wished for more options when it comes to building a model of Takahashi's iconic car?
As a fan of Initial D and the legendary Mazda RX-7 driven by Keisuke Takahashi, I understand the appeal of collecting different versions of this iconic car model.
While LEGO has some excellent building sets, there are some equally impressive alternatives available. As a fellow enthusiast, I have personally built and thoroughly enjoyed five different Mazda RX-7 building sets from various brands that I believe are just as good as LEGO's offerings.
Whether you're a die-hard fan of Initial D, a lover of Mazda RX-7s, or simply enjoy building car models, you won't want to miss out on these fantastic alternatives. Keep reading to discover my top 5 picks for the best alternative models for LEGO Mazda RX-7.
1, Mould King 27015 RX7 FC35
You won't want to miss out on the Mould King 27015 RX7 FC35 model set. This 369-piece set features an impressive 8-wide car design, measuring at 2.0 inch height, 6.5 inch length, and 2.8 inch width. With a detailed steering wheel, sleek streamlined body, a transparent windshield, and a large rear wing, this model perfectly captures the iconic design of the Mazda RX-7.
Not only is this set visually impressive, but it also comes complete with a display case, so you can show off your hard work in your favorite spot in your room. The display case is specially designed to accommodate this spliced building block car and can be used to showcase your model as a standalone piece, or alongside other models of your collection to create a collectible series of building block toys.
I personally experienced building this model set and was amazed by how closely it resembled the real thing. From the sliding tires to the carbon fiber stickers, every detail is crafted with precision and care. It took me about 4 hours to complete, but the finished product was well worth the time and effort.
As I worked on the car, I noticed many authentic details that truly make this model feel like a true replica of the Mazda RX-7 FC35. From the curved lines of the body to the placement of the rear wing, every aspect of the car is faithfully recreated. And when I placed the finished model in the display case, I was thrilled with how impressive it looked on my shelf.
2, Mould King 27016 RX7 FD35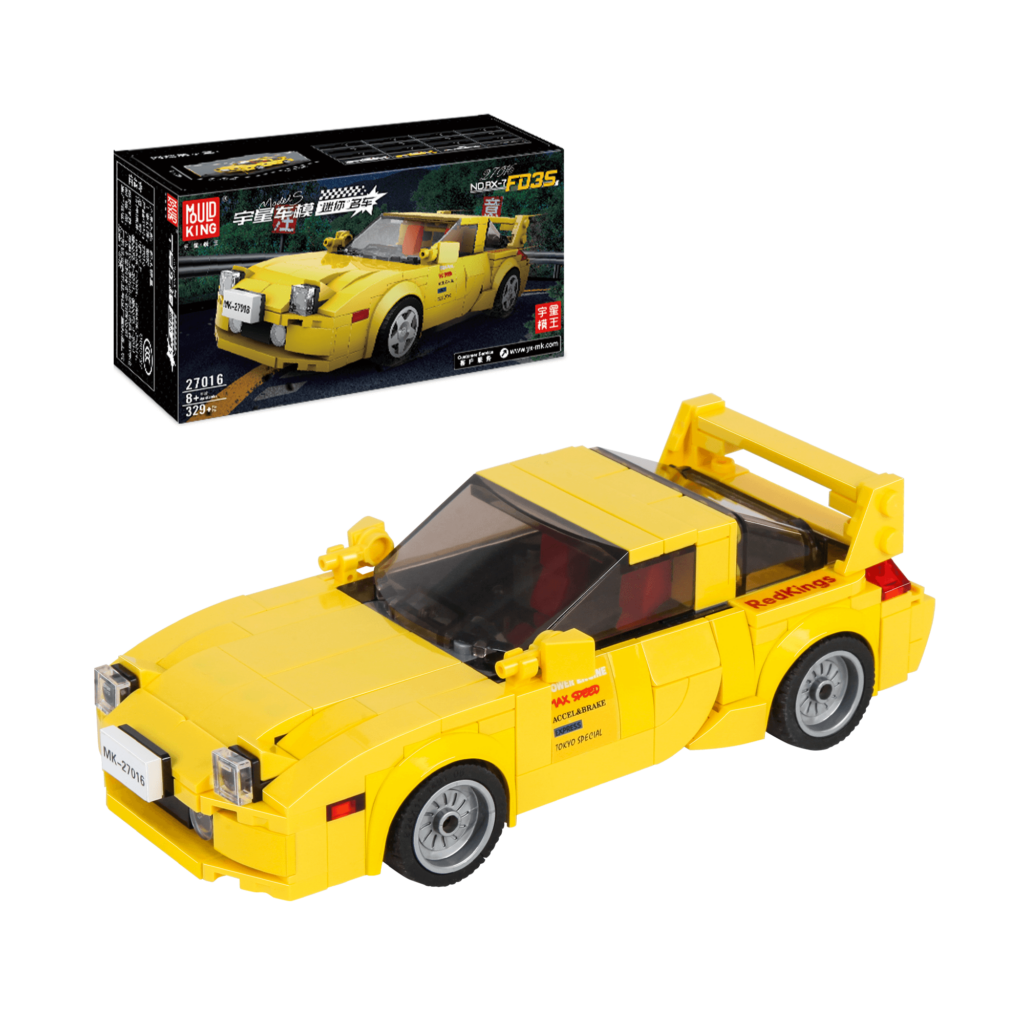 Similar to the Mould King 27015, The Mould King 27016 RX7 FD35 model set is another great pick! With 329 intricately designed pieces, this set includes a beautifully crafted automobile that boasts a transparent windshield, sliding tires, a large rear wing, and even simulated carbon fiber stickers! The set comes in individualized packaging, along with a display case that allows you to showcase your finished product wherever you like!
Building this model set was a truly exciting and engaging experience, taking me about 3 hours to finish. Each detail was so authentic and meticulously crafted, from the sleek and streamlined body to the intricate design details that make Mazda RX-7 so iconic. Every moment spent building this set was nothing short of thrilling, with every piece coming together to create a truly unforgettable masterpiece! This model set is perfect for anyone who loves a good challenge and enjoys the thrill of constructing something with their own hands!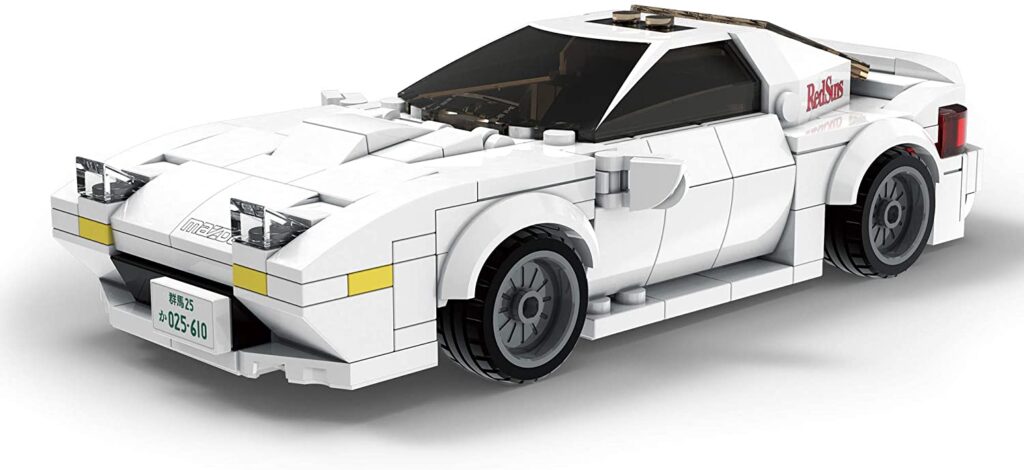 Looking for an extraordinary model building experience that accurately represents your favorite car? Look no further than the dOMOb Mazda RX-7 FC3S model building set! Made with extreme attention to detail at a 1:24 scale, this set features opening hood, detailed engine bay, rearview mirror, lights, and a detailed interior. With exquisitely designed car stickers and a RedSuns team logo as seen in the original Initial-D series, you can fully immerse yourself in the beloved world of this classic manga series!
Building this car model set took me about 4 hours, but every moment was an incredible experience filled with excitement and enjoyment. As I assembled the set, I was constantly amazed by the authentic details that mirrored the features of the actual car, from the lights to the engine. It was truly impressive how this model managed to embody the essence of the Mazda RX-7, making it a perfect addition for car enthusiasts of all ages.
To top it off, this incredible dOMOb RX-7 FC3S model is currently on sale at the price of USD 29.95. You can own a licensed model that is authorized by the Initial D manga rights holder, adding to the authenticity and overall quality of the product. The finished car model is designed to be non-remote controlled and instead utilizes a pull-back car, providing a unique and exciting way to show off your finished product. Don't miss out on the opportunity to add this one-of-a-kind model building set to your collection today!
4, MOC RX 772PCS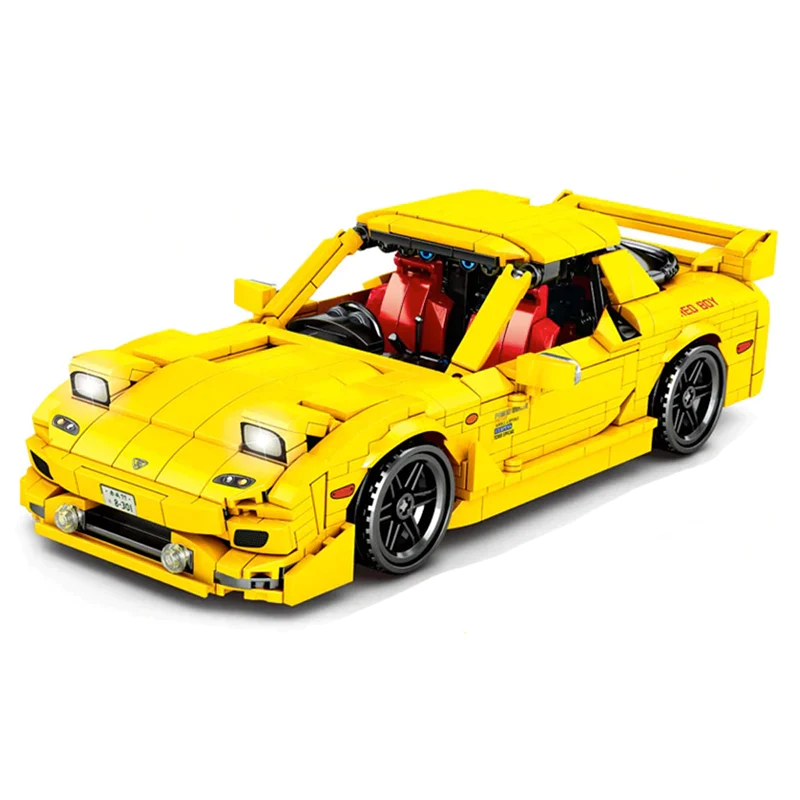 Look no further than the MOC RX 772PCS building set for an unforgettable model building experience! This set offers an amazing 1:16 scale replica of the iconic Mazda RX-7, measuring 26cm in length and made with over 700 pieces of high-quality bricks. With a pull-back function, opening doors, fully detailed interior, and even quad exhausts, you can replicate the look and feel of the Mazda RX-7 in your collection!
Building this model set was a thrilling and exciting journey that took me approximately 5 hours to complete. As I constructed the set, I was amazed by the stunningly precise details that perfectly capture the essence of the Mazda RX-7. The pull-back function and opening doors add to the overall joy and satisfaction of building this model set. Anyway, it's a beautiful finished product!
5, Initial D 1: 12 Mazda RX-7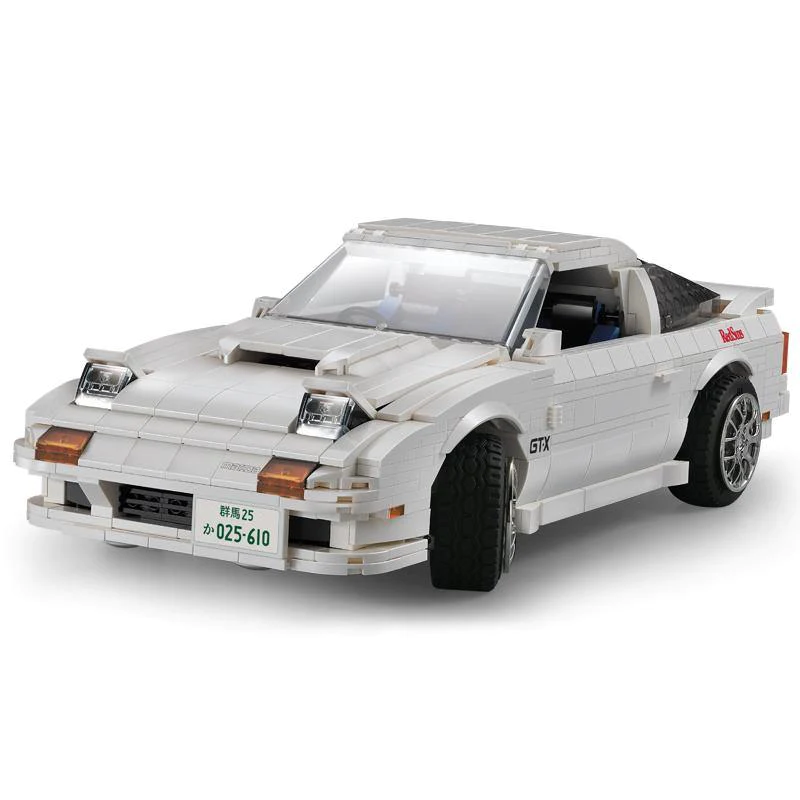 The last item we'd share is the Initial D's 1:12 Mazda RX-7 building set! This awesome building set features many highly detailed vehicle parts, including plated wheels, an engine compartment, a steering wheel, left and right mirrors, double seats, and a trunk. There is even a recreated 13B-T twin-rotor rotary engine under the hood! Plus, this model has been decorated with RedSuns team stickers for added authenticity.
The level of detail in this model kit is truly remarkable – it only took me about 4 hours to build from start to finish. I had so much fun adding all of the additional components to customize my Mazda RX-7 such as the power pack upgrade play feature which allows you to purchase another power pack module and convert your build into a remote control version. With project mode change function you can also add track version engine, nitrous bottle, track tail, track air kit and more that will make your car look like something straight out of the legendary manga Initial D! My Mazda RX-7 sits proud on display on my included building block display stand – it's perfect for showing off completed builds for any initial D fan or Mazda car collector!
If you're a die-hard fan of the Mazda RX7, or just looking for an enjoyable building activity to partake in, then this selection of models is sure to offer something to suit your needs. From complex and highly detailed model sets, to simpler ones ideal for casual builders, there's something to delight all levels of experience. With a wide range of features and functions, these building sets will provide hours of fun and challenge as you put together your perfect replica of the iconic Mazda RX7. Whether you keep it stock-looking or customize it with all sorts of accessories, the end result will be a model that you can proudly display in your collection!