Top 5 Alternative Models to Lego Technic Mustang GT500
If you're a fan of Mustangs like I am, you know that one of the coolest things about collecting these iconic cars is seeing all the different versions and styles that have been created over the years. The same is true for LEGO Mustangs – there's something endlessly fascinating about exploring all the different ways that people have reimagined this classic set. That's why I've put together a list of my top 5 alternative models for the LEGO Ford Mustang GT500. These models may not be official LEGO kits, but I guarantee they're just as cool – and they'll make an impressive addition to any Mustang fan's collection.
If you're looking for a Mustang model that's truly a showstopper, look no further than the Mould King 13108 Mustang model set. With an impressive 1:12 scale and a whopping 2,943 pieces, this model is a true labor of love – and the result is absolutely stunning. Unlike many LEGO Mustang sets, which are primarily designed for display purposes, the Mould 13108 is built to move. With working doors, hood, and trunk, as well as a fully-functional steering system, this model is as fun to play with as it is to build. And at more than 2 times the size of the LEGO Mustang set, it's sure to make an even bigger impression on anyone who sees it.
What makes the Mould King 13108 even more interesting is its remote control function. This model can be controlled by either a smartphone app or a physical controller, which allows for a whole new level of interactivity and excitement. And with a top speed of up to 20km/hour, this Mustang really packs a punch. The engine is powerful and responsive, making it a joy to drive around and explore your surroundings.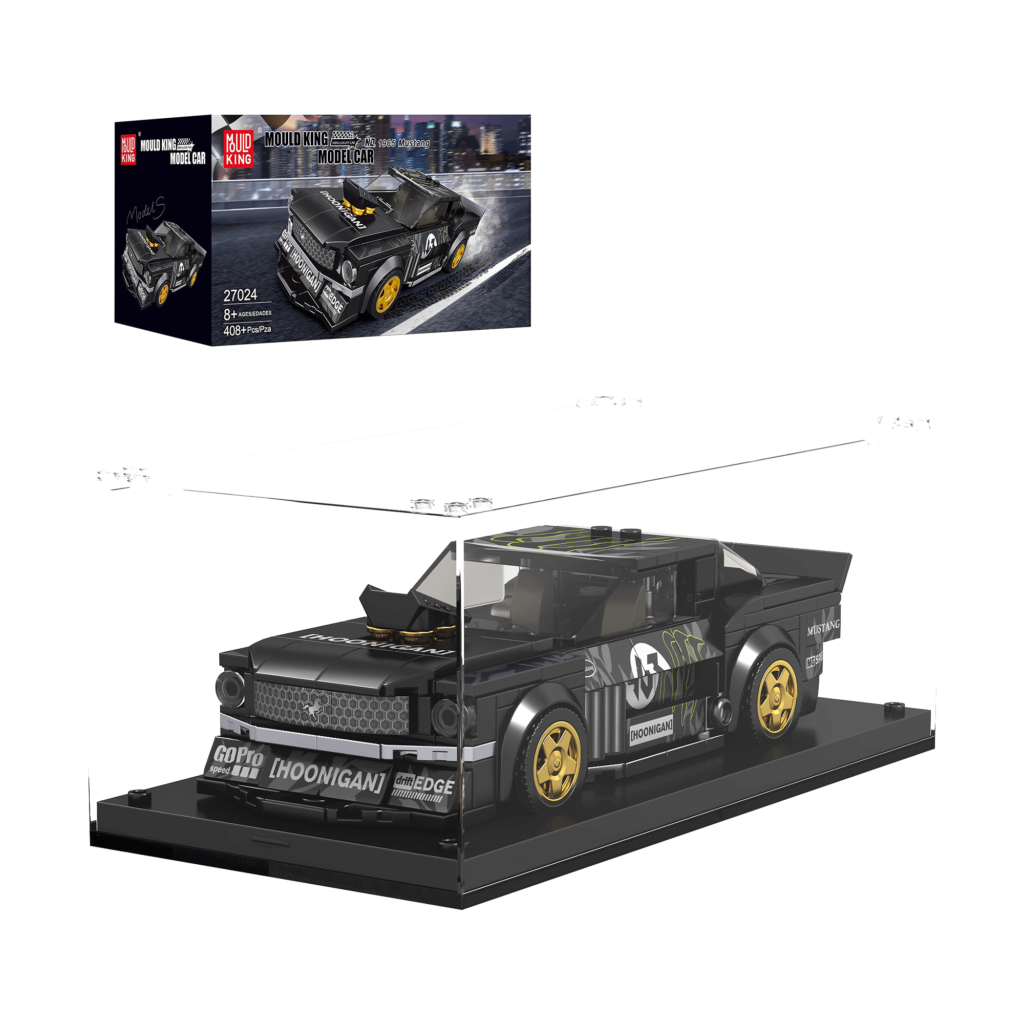 For any fan of the iconic Mustang, the Mould King 27024 No. 1965 Mustang is an absolute must-have. Despite being built with just 408 pieces, this model is incredibly detailed and authentic, capturing the essence of this iconic vehicle in a way that few other model sets can. What's more, this Mustang is a pull back car, adding an extra layer of fun and excitement to your play experience. And with a beautiful showcase included, you can keep your Mustang safe from dust and display it proudly in your collection.
But what really sets this Mustang apart are the stunning decals that adorn its body. These stickers make the car look like a super racing car straight out of the movie Fast & Furious, adding an extra layer of coolness to an already impressive model. And for those who love collecting Mustangs, this model is a true gem – a perfect addition to any Mustang enthusiast's collection. Whether you're a fan of the classic Mustang design or simply appreciate a well-crafted model, the Mould King 27024 No. 1965 Mustang is sure to capture your heart.
3, MOC-14616-1967 Eleanor Mustang
This stunning MOC-designed Mustang is made by CaDA and is an absolute masterpiece, built with an incredible 3541 pieces. The pure white color of the car is both classic and eye-catching, and the two pairs of circle headlights add an extra touch of authenticity that true Mustang fans will appreciate.
But what really sets this Mustang apart is the remote control function. With the ability to control the car through an app or a controller, you can feel like you're really behind the wheel of this classic vehicle. And with the ability to control the front and rear hood to open and close, you can explore every inch of this meticulously crafted model.
As soon as you lay eyes on the MOC Factory 14616 1967 Mustang Technician, you'll feel a surge of excitement and anticipation. And when you start to build and explore all of its amazing features, that excitement will only grow. This Mustang is a true work of art, and a must-have for any serious collector.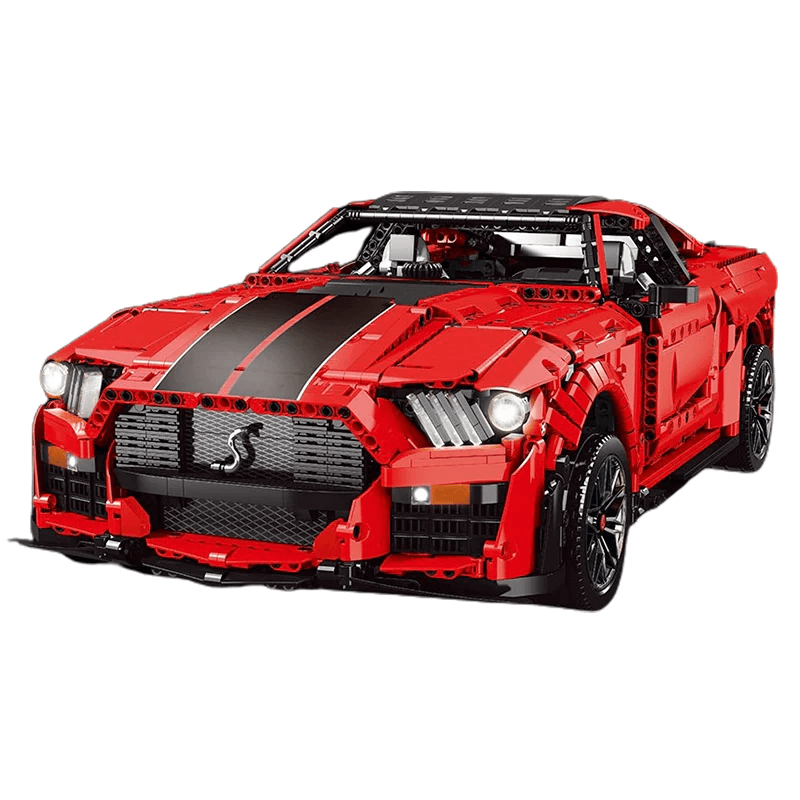 Have you heard of the Red Mustang build model from TheBlockZone? It's one of the most impressive alternative models we've come across in our quest to find the best Mustang kits out there.
With over 3300 pieces, this 1:8 scale model is an impressive 57cm long, making it a commanding presence on any shelf or display case. It comes equipped with everything you would expect from a model of this caliber, including independent front and rear suspension, quad exhausts, and a rear spoiler.
But what really sets this model apart is its incredible level of detail. With a fully detailed interior, opening doors, and remote-controlled opening hood and trunk, you'll feel like you're right there in the driver's seat. And if that wasn't enough, this model is also remote-controlled, with high torque drive motors that give it plenty of power. So whether you're a fan of Mustangs, muscle cars, or just love a good building challenge, the Red Mustang build model from TheBlockZone is an absolute must-have.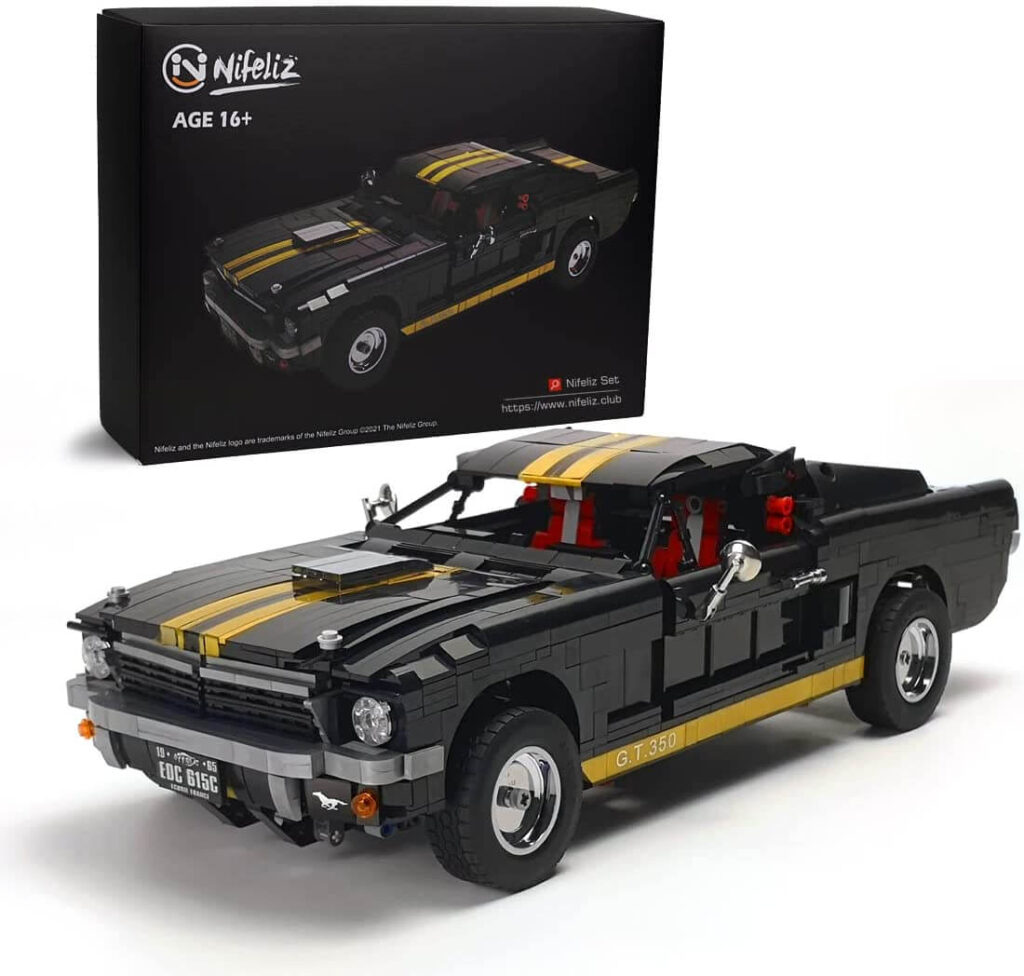 And we have found a real cool stuff for you – the 1965s GT350 model building set from Neflize. This stunning set allows you to build and customize your very own classic American muscle car, complete with dark bodywork, golden racing stripes, and 4-spoke electroplated rims with rugged tires. With 1817 pieces, this set is perfect for boys and girls aged 16+ and for fans of all ages who love a good challenge.
But the fun doesn't stop there! This set comes with a plethora of customizable features, including a V8 engine with a rotating radiator fan, a 2-speed transmission, independent suspension, and detachable bodywork. Plus, with the opening hood, doors, and trunk, you can showcase your amazing work and impress your friends with the intricate details of the interior. If you are the fan of classic Mustang, don't miss out on the opportunity to own this classic piece of American automotive history – get your hands on the 1965s GT350 model building set.
In conclusion, we hope this list of alternative models to the LEGO Ford Mustang GT500 has provided some inspiration for fellow Mustang fans and collectors. Each of the sets we've recommended offers something unique, whether it's a larger scale, greater detail, or even remote control functionality.
While LEGO has undoubtedly set the bar high with their official Mustang model, there are plenty of other options out there for those looking to expand their collection. Whether you're a seasoned builder or just starting out, these alternative models offer a satisfying and enjoyable building experience.
So why not try something new and add one of these amazing Mustang models to your collection today? With so many options to choose from, the possibilities are endless.